Why Stay longer?
Reason; Killarney is in the middle of Kerry also known as the "Kingdom of Kerry" and you can easily visit the Dingle Peninsula, the Ring of Kerry, the Gap of Dunloe, Skelligs, the Skellig Ring and the Beara Peninsula without having to pack your bags and move on.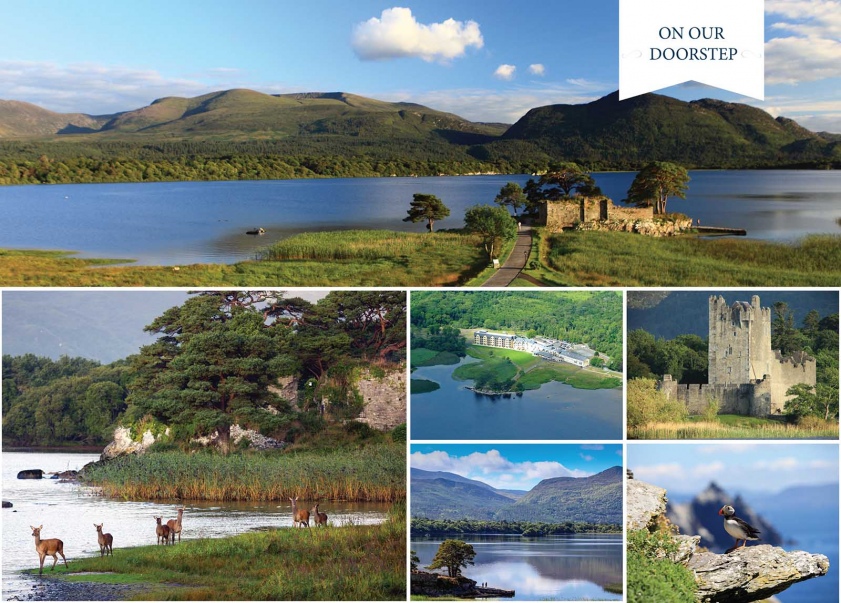 Killarney
Visitors have been traveling to Killarney for over 200 years to see its legendary beauty and it is easy to see why they came then and why they continue to come now. Here at The Lake Hotel, we are unbelievably fortunate to be located in a place of such natural beauty and splendor. As you stroll out the lounge doors of the hotel the Lakes of Killarney and the Killarney National Park are on display in front of you.
Visit our onsite 12th Century Castle which is floodlit by night.
Muckross Abbey, Muckross House, and the Traditional Farms are all close by
Torc Waterfall and Dinis Cottage
Ross Castle and the Old Copper mining trail
Innisfallen Island or a boat trip on the Lake
The Gap of Dunloe pick up at the Lake Hotel for Families and Groups
Horse riding, Golf, Cycling, Fishing and much more
Climb Ireland's highest mountain or try the trail to the Devil's Punchbowl on Mangerton Mountain
Watch the Wild Deer from the Lake Hotel, Eagles, Egrets, Herons and many duck and bird species.
Relax in the Lake Hotel hot tub overlooking our 12th Century Castle
Right in the Heart of the Ring of Kerry
The town of Killarney is set on the Ring of Kerry which is a world famous touring route celebrated for its scenery.
Slea Head and Dingle are only an hour's drive to the north-west of Killarney and the drive to Dingle is in itself a reason to take this trip. The charming town of Dingle and the rugged majestic landscape of Slea Head would take your breath away, a world apart from the lush, verdant beauty of Killarney and the lakes.
These are just some of the day trip options available when based in Killarney and at The Lake Hotel. There are many more and we are happy to make recommendations or assist you with information before and during your stay with us.
We are happy to provide local maps and recommend routes and refreshment stops to our guests. Packed lunches can be organized for small or large groups with advance notice. Information on day trip operators, timetables and costs are all available from Hotel Reception.
More information on Killarney Vacation Killarney